Wordt Ictoria het beste stagebedrijf van 2022?
Ictoria has been nominated for the title of best internship company of the year 2022! A jury has nominated five students and five companies from 400 entries that have a chance to become internship company of the year 2022.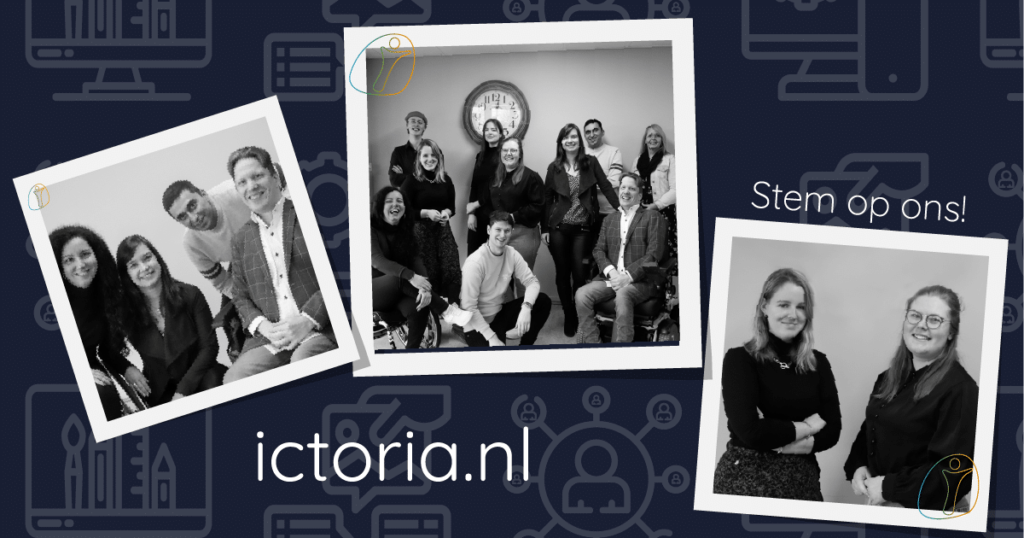 The election is an initiative of  StudentenBureau, a recruitment and selection agency specialized in mediating young talent at companies. They want to find the perfect match between company and student and they have been doing this for over 22 years with great pleasure and success.
With the contest StudentenBureau wants to show how good internship companies offer the professionals of tomorrow a chance to become the expert he or she wants to be.
For the title 'Internship Company of the Year 2022 the following companies are nominated: Dockwize, Eiffel, Every Day, KBenP en Ictoria. You can vote for your favorite until Friday, May 6: https://dagvandestagiair.nl/stemmen-2/
On Wednesday, May 25, StudentenBureau will announce the winner by looking at the number of votes and the added value of the nominees.
What makes Ictoria a great internship company?
Ictoria works with energetic and enthusiastic employees who are not limited by their physical or mental challenges. They have an enormous drive as people and as professionals to strive for maximum results.
Ictoria specializes in both offline and online graphic design and everything in the field of online visibility. We create websites and webshops, manage social media and provide online marketing, showing our strength with the combination of graphic design and online media.
"Our social enterprise stands for all people with a challenge. Profit is nice, but mainly serves to hire new people. The word intern does not occur within our organization, from day one they are considered junior employees," says Ictoria founder
Nadia van den Heuvel.
Ictoria's internship program is never set in stone. "It is filled out by the interns themselves. It completely depends on how they want to go about their path. In recent years, there have been such crazy innovative ideas thought up by interns. I'm really not going to determine for these millennials how they should approach certain things," Nadia says.
"As Ictoria, we grow per internship period. Sometimes we add elements, sometimes we delete elements. You can't not guide all interns in the same way. I think that is why we have been nominated. Here they look purely at the person; you grow together."
Help us win the title: Internship Company of 2022
As mentioned earlier, you can vote for Ictoria until Friday, May 6. So if you want to help us you need to be quick. You can vote here: https://dagvandestagiair.nl/stemmen-2/
Have you become excited about an internship at Ictoria and would you like to join us? You can! At Ictoria we are always looking for enthusiastic talent. Send your CV to [email protected] and we will contact you as soon as possible..